Problem 7: Problems with Establishing Causal Claims by Retrospective Testing
The method of free-association, hailed by some psychoanalysts as an instrument comparable to the microscope or telescope, is not a trustworthy resource for establishing causation. Psychoanalysts such as Rapaport (1967, pp. 216-217) commit the logical falacy of post hoc ergo propter hoc--"after it, therefore the cause of it." A repression that emerges at the end of a chain of free associations is taken uncritically to be the original cause of the symptom that initiated that chain.
---
The figure below (Von Eckardt, 1986) represents epistemological problems in Freud's use of clinical data as discussed by Grünbaum (1984) (circled numbers correspond to numbered problems at left; arrows represent the relation "is considered evidence for").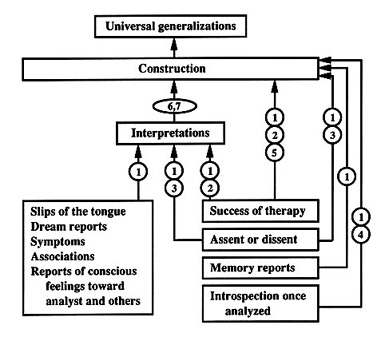 LEVELS

PROBLEMS

suggestibility (pp. 130-135);
failure of tally argument (pp. 135-172);
weakness of consilience argument (pp. 273-278);
Nisbett and Wilson findings (pp. 147-148);
problems with Breuer-Freud argument (pp. 177-189);
problems with extrapolation to slips and dreams (pp. 190-239);
problems with establishing causal claims by retrospective testing (pp. 177-189).
---
References
Rapaport, D. (1967). The collected papers of David Rapaport. M. M. Gill (Ed.). New York: Basic Books.

Grünbaum, A. (1984). The foundations of psychoanalysis: A philosophical critique. Berkeley, CA: University of California Press.

Von Eckardt, B. (1986). Grünbaum's challenge to Freud's logic of argumentation: A reconstruction and an addendum. The Behavioral and Brain Sciences, 9, 262-263.
---
Last modified January 1999
Visited times since July 2001
Comments?
Home to Psychoanalysis
Home to Great Ideas in Personality